Help Your Teen Stay Active And Challenge Themselves Every Day With Our Teen Martial Arts Classes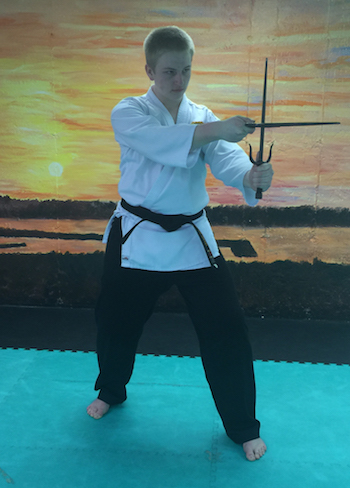 The teenage years can be tough. With so many distractions and the threats of peer pressure and intimidation, it's easy to see why some teens find it hard to focus.
But we're here to help.
At New England Rendokan, our Teen Martial Arts training is designed to keep student active and engaged. We teach Okinawan Shorin-Ryu Karate, Jujutsu, and Kobudo and use the disciplines to help instill discipline and character skills in all of our students.
Join us in Rocky Hill and Old Saybrook and try it out today! Fill out the short form on your screen to learn more!
What Can You Expect From Our Teen Martial Arts Program?
Our team at New England Rendokan works hard to maintain a non-competitive environment. We don't challenge one student against another and we don't teach free sparring, being mindful of any use or instruction of contact.
Instead, we give our students the chance to focus on their own unique skill sets. Each student can work hand-in-hand with a dedicated black belt to improve their technique, power, and efficiency.
Our Teen Martial Arts Classes in Rocky Hill and Old Saybrook can help students:
Develop incredible athleticism
Learn effective self-defense skills for any situation
Build confidence in everything they do
Establish lifelong habits of physical activity
And Don't Forget: Our Teens Martial Arts Program Is Developing Well-Rounded Young Adults
The goal of any martial arts system is to combine the development of mind, body, and soul. We're no different. But we're doing it better than most.
Our Teen Martial Arts training surrounds students with positive role models and builds them up with a series of accomplishments. We rely on an exciting belt progression system that keeps students motivated and teaches them the value of hard work and dedication.
From day one at New England Rendokan, your child can learn:
Respect and discipline
Communication and conflict resolution
Leadership and teamwork
Perseverance through any challenge
Don't Miss Out On The Best Teen Martial Arts Classes In Rocky Hill And Old Saybrook
Give your teen the best chance to thrive with our Teen Martial Arts Classes at New England Rendokan in Rocky Hill and Old Saybrook. We're proud to train teens of all experience levels and abilities.
Just fill out the short form on your screen to get started today!